Twitter Is Absolutely Losing It Over 'Bachelor' Contestant Kelsey Weier's Champagne Fail
I'm pretty sure that we can all just pack up our things, turn off the lights, and go home, cause we just got the best moment of Peter Weber's Bachelor season/maybe the entire franchise.
[There are spoilers for the second episode of The Bachelor ahead. If you aren't caught up, stop right here!]
Tonight's episode was all about #champagnegate. Long story short, contestant Kelsey brought a bottle of champs from home to the Bachelor mansion in order to have a special moment with Peter. According to Kelsey, the bottle of champagne, which she got on her birthday, was much more than bubbly. She says, "the bottle shows my heart and what I want. I want to have a husband, I want to have a family." And personally, I think that's a bit too much pressure to put on a bottle of booze/a guy you just met, but no one is asking me!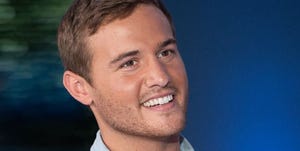 Anyways, Kelsey sets out the bottle so that it's all ready when she steals Peter for a moment during the pre-rose ceremony cocktail party, but before she has her chance, Hannah Ann and Peter see the set up and pop the champagne, not realize that it was Kelsey's special 'husband and family' bottle.
Kelsey has a full breakdown and runs around the house crying until Peter pulls her aside to share another bottle of champagne. And this is where the magic happens, people, cause when Kelsey goes to take a sip from the bottle it all…just…explodes in her face. And I don't mean to be dramatic, but it was probably the funniest moment of the entire franchise—and Twitter agrees:
The best clip in Bachelor history PE 👏🏼RI 👏🏼OD 👏🏼 #TheBachelor pic.twitter.com/mZEEzojueB
This is the best thing that has ever happened on any Bachelor… end of story. #TheBachelor pic.twitter.com/llQQrVC4Xo
There has never been a better moment in bachelor history 😂 she so deserved this pic.twitter.com/WRyfQ5B0P8
I've never before seen karma of being a cray crazy so clearly executed. @BachelorABC #bachelor #ChampagneGate pic.twitter.com/0qCw9tIi6R
Next time anyone asks me why I watch The Bachelor I'm just gonna reference this video #TheBachelorABC pic.twitter.com/HnMe6Wq2H5
Hands down best scene ever aired on The Bachelor! pic.twitter.com/A7G0WtbZXZ
so you're telling me…..kelsey saved a special bottle of champagne for over a year and the producers told hannah ann to drink it with peter knowing it's gonna create drama
THE DEVIL WORKS HARD BUT THE BACHELOR PRODUCERS WORK HARDER #TheBachelor
THE DEVIL WORKS HARD BUT THE BACHELOR PRODUCTION TEAM WORKS HARDER HONEY #TheBachelorABC pic.twitter.com/c7F5Lw0IXl
The Bachelor producers shaking the bottle of champagne before Kelsey drank it #TheBachelor pic.twitter.com/8SR4s6k7up
Now please excuse me while I watch this clip on loop!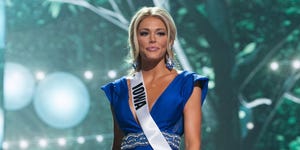 Source: Read Full Article