Who Is James Francos Girlfriend, Izabel Pakzad?
There are two kinds of celebrities in Hollywood: the ones who love the spotlight… and the ones who don't. For a long time, James Franco was one of those stars — a list that includes Julia Roberts, Ryan Gosling, and Leonardo DiCaprio — who prefers to keep his personal life far away from the public eye. However, in 2018, he was accused of sexual assault amid the #MeToo movement and, as a result, he was caught in the crosshairs of mass media attention.
Franco denied the allegations, saying "the things that I heard that were on Twitter are not accurate," but still took responsibility for his actions. "The way I live my life, I can't live if there's restitution to be made. I will make it," he said. "So if I've done something wrong, I will fix it." Years after the allegations came to light, in June, the actor reportedly agreed to pay $2.235 million to settle a lawsuit brought by his two accusers (per USA Today).
How the lawsuit will affect Franco's career long-term is unknown, but on a personal level, he's been quietly dating his girlfriend, Izabel Pakzad, for a few years. Scroll ahead to learn about the model, including the hit movie she was in and how she makes Franco want to be a better boyfriend.
Izabel Pakzad is an aspiring director and actor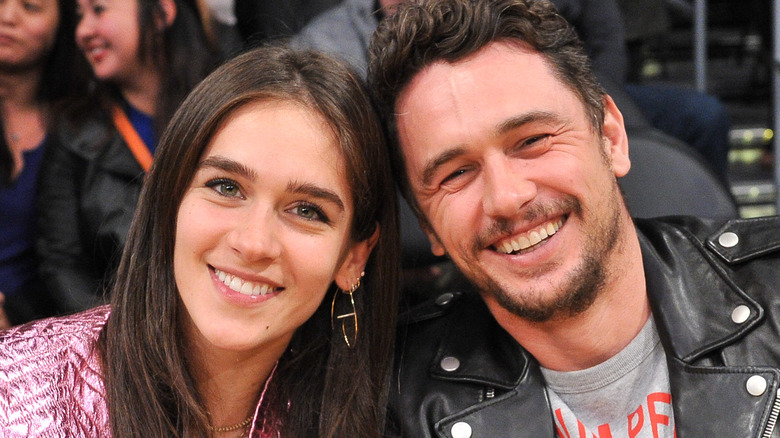 James Franco and Izabel Pakzad met in 2017, according to The Sun, and have been together ever since. While neither of them have publicly spoken about their romance — except when the actor brought up his girlfriend "Izabel" on Howard Stern's show — they've been spotted out in public multiple times. The most recent sighting was on a beach in Greece, where the couple showed off some major PDA, including a passionate make-out session, per the Daily Mail.
So, who's the actor's longtime love? In 2018, InStyle reported Pakzad was a graduate student at the University of Southern California, where she was getting a Masters in Integrated Design, Business, and Technology. Based on her Instagram, she also likes to travel and loves to read. On top of that, Pakzad has acted in films like "The Deuce" and "Birds of Prey," as well as wrote and directed her own project called "Joshua Tree."
As for her relationship with the award-winning star, she makes him want to be a better boyfriend. Franco told Variety in 2017 that he accompanied Pakzad to the emergency room when she was sick — something he did not do for his ex. He said he was "haunted" by that decision and it made him realize he was selfish and self-centered. Considering Pakzad stuck by Franco throughout his scandal in 2018, it looks like he's working hard to be a changed man.
Source: Read Full Article