Who Was NCIS Star Mark Harmons Famous Father?
Mark Harmon is the face of the popular CBS crime drama "NCIS," which is why his potential departure from the show has fans devastated. No one wants to see "NCIS" end yet, and it's possible that with Harmon leaving, that might be exactly what happens, as reported by The Hollywood Reporter. If Harmon has, in fact, decided he's ready to retire from "NCIS," sources provide hope that he will appear in a few episodes of Season 19 just to keep the show alive. 
But why are fans even questioning Harmon's departure? There were several hints present in Season 18 that clued viewers into this possibility. First, Harmon's character on the show, Leroy Jethro Gibbs, was suspended from his role as a special agent after physically attacking a man who was responsible for abusing dogs, according to TV Line. The second event came during the Season 18 finale, when Gibbs went out for a boat ride, only for viewers to watch the vessel get blown up in front of their eyes. A dead Gibbs was not spotted, however, leaving the possibility open that he survived. CBS entertainment chief Kelly Kahl spoke with Deadline regarding the future of Harmon's role on "NCIS." "We'd love to have him as long as he'd like to be here," Kahl stated.
Harmon may have risen to fame thanks to his role as Gibbs, but he isn't the first in his family to experience the public spotlight. Keep reading to find out who his famous father was!
Mark Harmon was raised by a famous father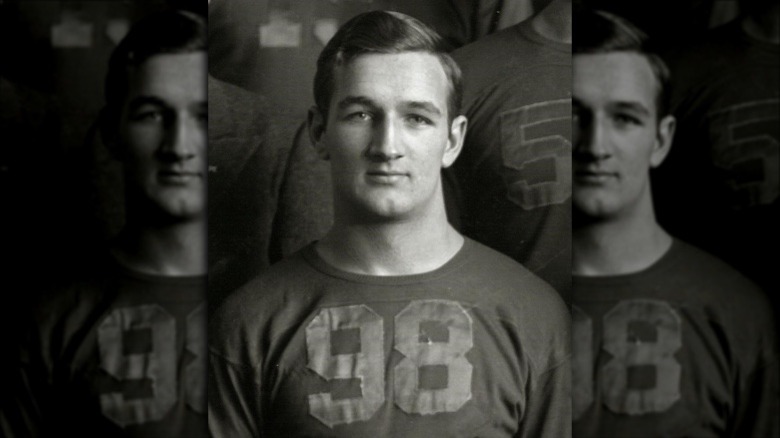 Those who are familiar with Mark Harmon might recognize his last name from somewhere (or someone) else. Harmon's father also spent a fair share of his life soaking up the attention of adoring fans, although not for the same reason. Tom Harmon was a well-known American football player who played on both college football and NFL teams, as noted by IMDb. Before he even made it to the national league, he won the Heisman Trophy as a mere senior in high school and entered the College Football Hall of Fame in 1954 as a wolverine. He went on to play for the Los Angeles Rams before retiring from football to become a sportscaster for ABC and KTLA-TV. 
Although Tom was recognized around the country for his achievements on the football field, as well as his work as a sportscaster, his television star son ironically did not know his dad was famous while he was growing up. In an interview with TV Insider, Mark explained, while laughing, "I had no idea [my parents] were famous. In fact, it didn't hit me until one day when I was riding in the car with my father in Ann Arbor, Michigan … we stopped at a crosswalk. Suddenly we were surrounded by people who recognized my dad and were really thrilled to see him," Mark explained. "I remember looking at this man I thought I knew so well and thinking, 'Who are you?'"
But wait just one minute — did he say parents, as in both of them were famous? That's right! Mark's mother also knew what it was like to live life in the limelight.
Mark Harmon's mom was also famous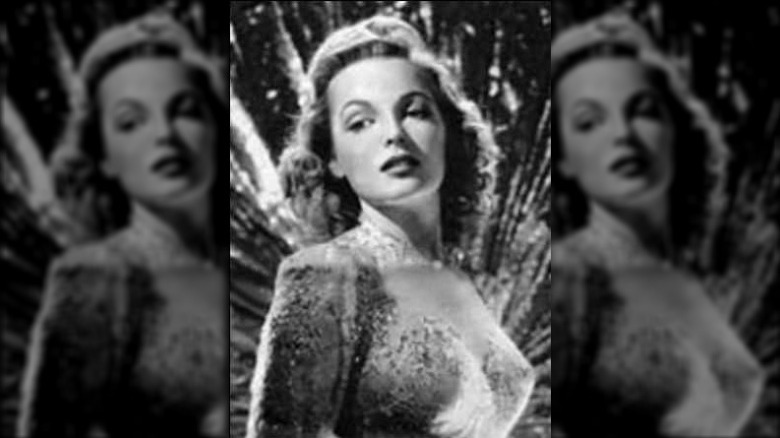 Mark Harmon did not have just one famous parent, but two. His mom was actor, model, and fashion designer Elyse Knox, who was best known for her role in "The Mummy's Tomb," according to IMDb. Knox acted in a handful of movies before marrying Msrk's father, Tom Harmon, and settling down to have children. Knox retired from acting at that point, preferring to devote her time to her three children, but she occasionally picked up roles here and there over the years. At the time, she explained, "I'm just a mother at heart so I decided it was time to retire from the screen."
The "Freaky Friday" actor has heartwarming memories of his mother, including one involving her wedding dress, which he shared during an appearance on CBS' "The Talk." The source of the wedding dress was the parachute Harmon's father used when his plane was shot down during WWII. "My dad went down … In China…," the "NCIS" star explained. "He was badly burned, so when a pilot went out of a plane, they always picked up the parachute … When [my father] got back after 30 days, the parachute came with him and he married my mom. My grandmother, an Austrian immigrant and also a great seamstress, basically took the chute apart and made my mom's wedding dress out of it." Needless to say, the story earned a bunch of "awwws" from the audience. What an amazing family history!
Source: Read Full Article