Pope Francis arrives at home of senior Iraqi Shi'ite cleric Grand Ayatollah Ali al Sistani
Pope Francis has arrived at the home of Grand Ayatollah Ali al Sistani – southern Iraq's top shi'ite cleric – in a historic meeting of Catholic and Shi'ite Muslim leadership.
It's part of the first ever papal visit to the Gulf state this weekend.
The Pope was driven to the home of the Ayatollah in a bullet-proof vehicle, before he climbed out and made the short walk to al-Sistani's small home, which he has rented for decades.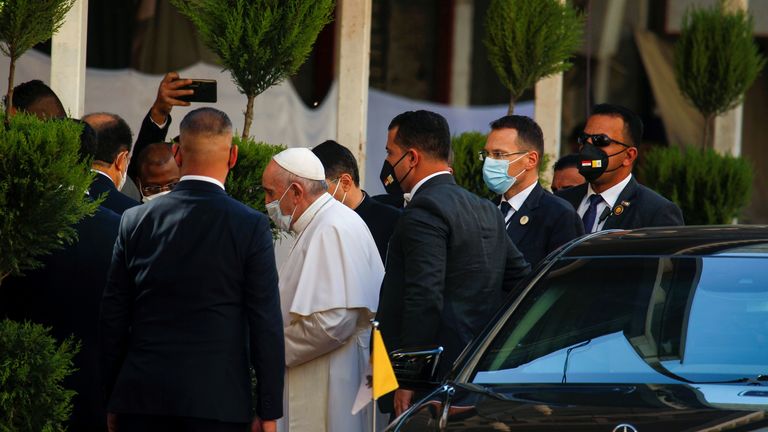 The masked Catholic leader was welcomed by a group of Iraqis wearing traditional clothing, with doves being released as he entered the home in a sign of peace.
Pope Francis and al Sistani will meet behind closed doors and discuss issues surrounding Iraq's Christian minority.
Grand Ayatollah al Sistani is deeply revered by the Shi'ite majority in Iraq, with his thoughts on religious, and other, matters often sought by his followers worldwide.
"A core purpose of his visit is interfaith dialogue, and that is the theme of today," Sky's Middle East correspondent Mark Stone says.
"He is at the moment meeting Grand Ayatollah Ali al Sistani – the most senior shi'ite cleric in Iraq and one of the most senior Muslim figures in the world.
"It is a hugely significant moment that these two elderly men, the Pope is 84 the Ayatollah is 90, should meet and should chat and will pray together – a very significant moment and an attempt by the Pope to make the point that… interfaith dialogue is at his core.
"It is incredible that he has managed to get here, everyone thought that the trip would have to be cancelled – not just because of the security concerns but because of coronavirus as well.
"The Vatican is making the point that social distancing is in force that crowds are not large but having seen the crowds in one small town yesterday anticipating his arrival, I think that is going to be very very hard to do."
Pope Francis is expected to visit the historic city of Ur later this morning to attend an inter-religious meeting – a site thought to be the birth place of the Christian, Jewish and Muslim patriarch Abraham.
Source: Read Full Article