US immigration green cards to be halted, Trump says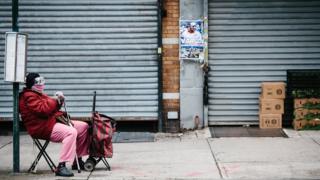 President Donald Trump has said he will halt applications of foreign nationals seeking permanent residence in the US because of the coronavirus crisis.
A day after he announced the move in an ambiguous tweet, Mr Trump said the measure would protect American jobs.
It is not clear how effective it will be as most visa services have already been suspended because of the outbreak.
Critics say he is trying to distract attention away from his response to the virus. The US has nearly 45,000 deaths.
Democrats also accuse the administration of using the pandemic to crack down on immigration. The issue has traditionally been a strong campaigning theme for Mr Trump, a Republican, but has taken a back seat during the crisis and in the lead-up to the November election.
At a White House coronavirus briefing, Mr Trump said the ban could be extended "much longer" depending on how the economy was doing, he said.
After vowing to suspend "all immigration" to the US on Monday night, Mr Trump apparently changed his original plan after a backlash from some business leaders. It would reportedly impact immigrants given temporary working visas, like farm labourers and hi-tech employees.
On Wednesday, the president wrote on Twitter that he would be signing an executive order "prohibiting immigration" later in the day.
What did President Trump say?
More than 20 million Americans have lost their jobs amid the coronavirus outbreak, and the president said the government had a "solemn duty" to ensure they regain their jobs.
"It would be wrong and unjust for Americans laid off by the virus to be replaced with new immigrant labour flown in from abroad," he said, adding that there could be some exemptions to the measure.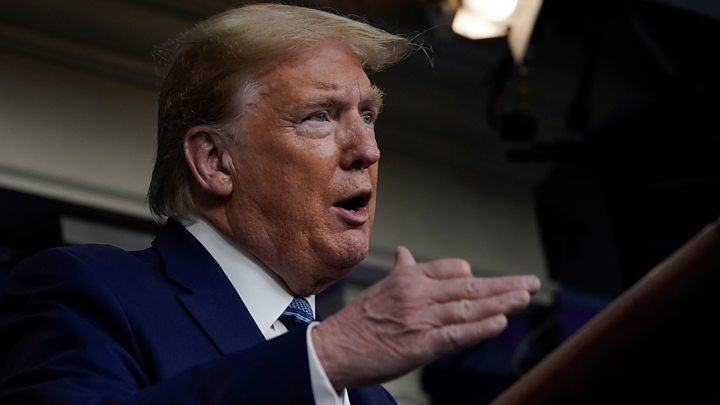 "We want to protect our US workers and I think as we move forward we will become more and more protective of them".
Mr Trump's order could spark legal challenges.
The US has the highest number of confirmed cases of coronavirus in the world – more than 820,000 – according to Johns Hopkins University, which is tracking the disease globally.
What are green cards?
Playing for his base
Details of Donald Trump's "immigration ban" have emerged, and it turns out the proposal is not as sweeping as his tweet originally suggested. The 60-day hold applies only to permanent residents, not temporary workers.
That means the public health rationale for the move is even more tenuous, however. Screening immigrants for the virus would appear to be just as effective as a total halt. As many suspected, the primary justification is economic. In the president's view, permanent workers compete with US citizens for jobs – and in a financial crisis, their presence is neither needed nor desired.
Many economists will be quick to disagree, arguing that the benefits of immigration outweigh the costs. That is a public policy debate President Trump will be happy to have, however. There is also the very real possibility that the order will become bogged down in the courts – a fate that befell the president's immigration orders made in the early days of his presidency.
Although the administration ultimately prevailed, those battles took time. And the end of Mr Trump's first term at this point is measured in months, not years. The president could be betting, however, that his base will appreciate the effort – and deliver another four years for him in November.
What has the reaction been?
Ali Noorani, of the National Immigration Forum, said "immigrants account for 17% of healthcare workers and 24% of direct care workers " in the US. "It is unfortunate the president would rather scapegoat the other than building a consensus that helps all of through this crisis," he wrote on Twitter.
American Civil Liberties Union's immigration expert Andrea Flores wrote: "Xenophobia is not a public health response."
However, Thomas Homan, the president's former acting director of US Immigration and Customs Enforcement, said it made "sense" and would keep jobs for unemployed Americans.
While such a move would usually affect millions, travel bans to prevent the spread of Covid-19 have already effectively halted immigration, making some question how much of a difference this will really make.
"The embassies are not open anyway, so this is like nothing new," Carl Shusterman, who has practiced immigration law since the 1970s, was quoted by Associated Press news agency as saying.
"This announcement doesn't really change anything unless the embassies were to open up next week or in the next 60 days."
What else is happening in the US?
Source: Read Full Article