'Want to be there': COVID crushes campus life again
For our free coronavirus pandemic coverage, learn more here.
Mikayla Zintilis spent the first semester of her degree learning online and now plans to defer.
"I was expecting to go into campus and have the full experience of uni, meet people, learn face to face," said Mikayla, who is studying dermal science at Victoria University.
"It's really hard to keep going with it; no motivation, no friends [at uni], nothing like that."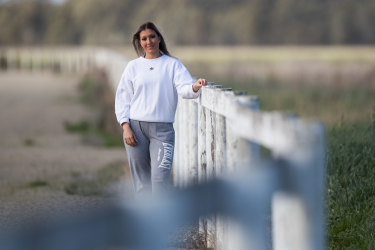 First-year uni student Mikayla Zintilis is thinking of deferring her studies because she has only done remote learning.Credit:Jason South
COVID-19 outbreaks and restrictions have again forced Victoria's hundreds of thousands of university students to study exclusively or mostly online.
While Victoria's primary and secondary students were allowed to return to classrooms last Wednesday, tertiary students returning for second semester were told to continue studying online.
Higher education expert Andrew Norton from Australian National University said a typical campus experience was unlikely this year due to probable COVID-19 outbreaks.
"If you want an on-campus experience, it's going to be next year," he said.
Professor Norton said it was unclear to what extent long periods of remote learning in 2020 led to students dropping out or deferring because the data had not been released.
"We do have data from the student experience surveys which showed that teaching satisfaction didn't change all that much, but anything to do with interactions with students and teachers, satisfaction was well down," he said.
"That shows that people do want that aspect of the tertiary experience, and Victoria had the biggest drop [in satisfaction] of all students, which is consistent with our long lockdowns."
Mathew O'Connor paused his first-semester studies at Swinburne University and hopes to rejoin students on campus this semester.
"I don't mind whether it's wearing masks and socially distancing, I just want to be there," the criminal justice and criminology student said.
"I've got an older brother and he's already done his bachelor [degree] and from him I saw what university was supposed to be like. And you've got an entirely different hand because you're class of 2021."
A University of Melbourne spokesman said the extension of restrictions in Victoria disrupted its "significant return-to-campus plans for the commencement of semester 2".
"Semester 2 classes that were scheduled on campus have commenced online where possible and will move to on-campus delivery as soon as feasible when restrictions allow," he said.
Monash University said while all week one classes were held online, from this week tutorials, practicals, labs, studios and workshops could begin on campus.
Victoria University said it planned for 60 to 70 per cent on-campus learning this semester, while La Trobe University said it hoped to significantly increase face-to-face learning and engagement activities once restrictions eased.
Federation University said it understood how difficult lockdowns and remote learning could be, and had put in place extra measures to support students.
A recent report by McKinsey & Company found 17 per cent of US senior students who had planned to attend post-secondary education had abandoned their plans, particularly those from low-income families.
Without face-to-face lessons, Mikayla said she didn't feel she was getting value for her money or time.
"I feel like I've wasted half a year," she said. "If I had known it was going to be like this I would have got a full-time job and saved up."
Most Viewed in National
From our partners
Source: Read Full Article