Rosie Huntington-Whiteley's French Manicure

Rosie Huntington-Whiteley just posted a photo of a version of the french manicure you've probably never tried before. The model's latest Instagram post is a shot of her jewelry-adorned hand with what she called "The Reverse Frenchie" in her caption. The manicure combines the same colors you'd normally get with a traditional french manicure, but instead of having the white shade at her tips, it runs across the edges of her cuticles.
The french manicure — which was most popular in the early '00s — is being thrust back into the limelight now as one of this year's biggest nail trends, as celebrities like Khloé Kardashian, Hailey Baldwin, and Kylie Jenner have all been seen with it. Many of them are putting their 2019 spin on the look, combining it with trends that are popular today (like neon hues and negative space). Check out Huntington-Whiteley and other A-listers' modern takes on the french manicure ahead.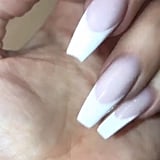 Source: Read Full Article