Why Maci Bookout Attended Court Hearing to Support Ryan Edwards After OD, Arrests (Exclusive Video)
In a preview for Teen Mom: The Next Chapter, Maci explains her decision to her husband Taylor, expresses her "regret" over how she treated Ryan in the past and speaks with son Bentley about the boy's relationship with his father.
Maci Bookout is opening up about her decision to show support to ex Ryan Edwards in court amid his ongoing legal and substance abuse issues.
In an exclusive sneak peek at tonight's new episode of Teen Mom: The Next Chapter, the reality star is seen explaining to husband Taylor McKinney why she wanted to attend Ryan's hearing after his overdose and arrests for harassment, controlled substance and DUI.
She explained that the hearing would decide whether Edwards would be able to leave jail for rehab or had to remain behind bars for anywhere up to a full year.
Unable to render YouTube Video.
"I think I'm gonna go to Ryan's next court date," she told Taylor, who thought it was a "good" idea. "Fine with me," he said, adding, "It'd be good for Bentley too to see that you're kinda there supporting."
As for why she was doing it, Maci explained that she was feeling "regret" over how she treated her ex "as an addict."
"I felt like I couldn't see the person. I just felt poorly about it. I by no means agree with all the decisions he made, but I'm not just gonna quit [on him]," she explained. "By being there for him, it shows him that, for one. Number two, I think it shows Bentley that I'm still recognizing the role that I play in the relationship that Bentley and Ryan have."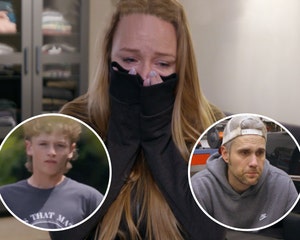 Maci Bookout Breaks Down After Ryan's Overdose on Teen Mom, Reveals Son Bentley's Anger
The footage also shows Maci speaking with Bentley about his upcoming middle school graduation, explaining in a voiceover that Ryan may miss it because he was still locked up. Talking to her son, she said she knew the boy's father would love to be there and was so "proud" of him, a feeling she shared.
"Do you feel like there's more access to a relationship Ryan now than there was before?" she then asked, as Bentley said things were "less complicated" than they had been in years past.
"Less of a chore, less heavy, it feels that way for me too, honestly," agreed Maci. "We're doing good, buddy. I'm proud of you."
Bentley seemed pretty proud of his mama too, telling her she did "really good" raising him.
According to The Sun, the judge agreed to send Edwards to a rehab facility in July of this year, but was warned the sentence would be strong if he didn't complete the program.
Teen Mom: The Next Chapter airs Wednesdays on MTV.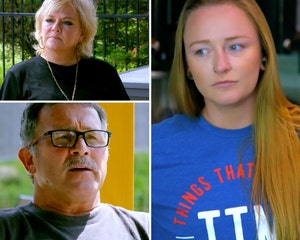 What Maci Bookout and Ryan's Parents Learned at Al-Anon Meetings Amid His Legal, Drug Issues
Source: Read Full Article