Ron's Apology to Jersey Shore Costars Bring Them to Tears In Emotional Show Return
The cast — sans Sammi — reveal their complicated feelings about Ronnie, questioning his sobriety and revealing how his past behavior really affected them before an apology two years in the making.
Ronnie Ortiz-Magro made his big return to Jersey Shore Family Vacation on Thursday night, in an emotionally-charged hour which ended with most of the cast in tears.
The reality star left the show in 2021 to seek treatment for mental health issues — a decision that came after a string of legal problems, including accusations of domestic violence — but has been hoping to make amends with his costars in the two years since.
The new episode began with Ron making his way to Margaritaville, only telling Mike "The Situation" Sorrentino about his impending arrival beforehand.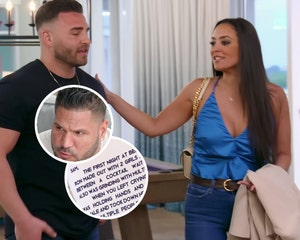 Sammi Sweetheart's Boyfriend Justin Makes Jersey Shore Debut as Ronnie Plots Return
"It's been 2 years since I've seen everybody. I had to step away because I made a lot of mistakes, but I've been doing a lot of work on myself lately, trying to make sure I'm on the right path and staying healthy," he said in a confessional. "I moved to Miami and go to meetings, I have a sponsor, I work on myself. I was granted full custody of my daughter and I just focus on my happiness and her happiness."
He went on to claim he reached out to a number of his former roomies over text message, but they never responded. That being said, he understood their actions, noting he was "in a bad place" at the time.
After Mike found out Ron was on his way to their hotel, he noted it was a "sensitive situation," knowing Ortiz-Magro hadn't spoken with some of them for years. "Nobody wanted anything to do with him after he got into some trouble, so I don't know how this is going to go," he said, adding that he believes everyone does deserve a second chance. Mike then warned Ron's ex, Samantha "Sammi Sweetheart" Giancola — get a full breakdown of that convo here — who then left before Ron arrived with her boyfriend, Justin.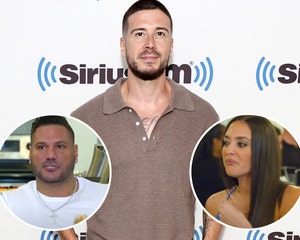 Jersey Shore's Vinny Guadagnino Shares If He Believes Sammi & Ronnie's Returns Are Permanent (Exclusive)
Mike then called another group meeting to give everyone else the heads up.
"Who invited him?!" asked Deena Nicole Cortese upon learning Ron was on his way, before admitting in a confessional she didn't know whether she was ready to see him. "He's done a lot of things that I don't approve of. We all cut Ron off after the last incident. I'm not sure how I feel about Ron coming," she added.
Deena went on to say that it wasn't Ron's sobriety — or lack thereof — while filming that was behind them not speaking to him, but because of "what was happening outside the house," referring to his arrests.
"When you get arrested for domestic violence, you put us in a weird position," added Vinny Guadagnino, as Deena exclaimed, "How could we be okay with that?" In a confessional, Nicole "Snooki" Polizzi also said his actions "were crazy," adding, "How could we condone any of that? Even though we love someone, you can't be around that."
The group also brought up how his behavior affected them all, with Pauly D saying MTV could have simply ended the show over his actions. Both Jenni "JWoww" Farley and Deena said they actually thought that was going to happen, believing the show could have been canceled altogether.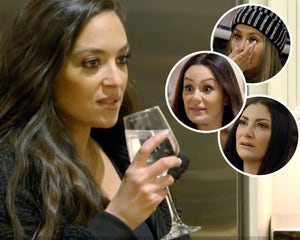 Sammi Confronts JWoww, Snooki and Deena Over Unresolved Beef In Jersey Shore Return
Mike told them all that he had spoken with Ron a few times over the past two years, adding that he could empathize with him after his own substance abuse issues and prison time. He pointed out how his relationship with his costars was "horrible" when the show returned as Family Vacation, saying he had to make amends and do "the right thing year after year" until they got to the "amazing" place they were currently in.
The other cast members, however, still had some doubts.
"I don't know if he's sober, dude. He says he's sober, but let's not lie," said Deena, before Jenni said she had seen photos of him holding alcoholic drinks. "I'd rather someone admit that they're not putting the work in than make believe that they are," added Vinny, before Ron finally rolled into Margaritaville and up to their suite.
Immediately, Deena noticed Ron was "nervous" to be around them, saying in a confessional that it was "sad" to see him in such a state. After he sat down at the table with them, he pulled out a letter, which he had prepared to read to them all.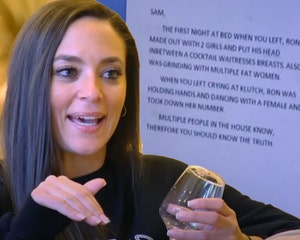 Sammi Sweetheart Reflects on Ronnie Relationship and The Note on Jersey Shore Family Vacation
Below is everything the letter said:
"I want to start by apologizing to you guys for my actions, for the things I've done that have affected you. I've had a lot of time to reflect over the last two years, it's been a long journey and I take a lot of responsibility for the things that I've done, not only int he past two years but in the past before that. It wasn't the best version of me as a man, as a person, as a friend."
"For a long time, I thought I was just hurting myself with the things that I was doing and I've come to realize that I was really hurting everyone around me that I loved. That's not something that I want to do. I love you guys like brothers and sisters, you're the closest thing I have besides my family. We've been through everything together, ups and downs and sideways and lefts and rights and I've missed a lot of you guys' journey in the last two years."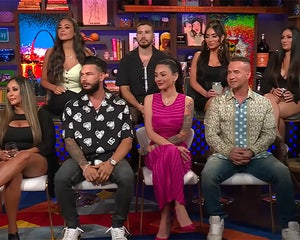 Jersey Shore Cast Talks Rude Celebs, Who Has the Most Money, and Sammi Disses Ronnie
As Ron got choked up, Nicole, Mike and Angelina Pivarnick were all seen wiping tears from their faces. He then continued:
"Last year I lost a lot of what I loved. I feel like I lost you guys, I lost my job. I lost people that I love. It's just been a real eye-opener for me and it's just something that I really am sorry for. I'm no perfect and some days are better than others. I do have bad days, but I'm working on that. I got a lot of help facing my issues and I'm doing everything that I can do to be better."
"I know we've had our ups and downs, but it really hurts me that I haven't been there for the last two years with you guys. I know it's gonna take a lot to rebuild our friendships, it's gonna take a lot for you guys to trust me, because I know in the past that I've shown inconsistency — like I'm good and then I'm bad — and I don't want to put anyone around me through that anymore."
"I really do take responsibility for everything that has happened in my life and it's been my fault, it's been my actions, it's been on me. I understand you had to do what you had to do for yourselves and your family and I respect that. I just really do love you guys and I really would like to start making amends with you guys and enjoying life with you guys again because you guys are a huge part of my life and you will always be a huge part of my life."
The episode ended with him opening the floor for his roommates, telling them he know they all "some stuff you guys want to say" to him in return.
In a preview for next week, an emotional Nicole was seen telling him, "We thought we were gonna find you dead one day and it makes me cry because we were really close" — before he admits, "It's hard hearing what my roommates have to say."
Jersey Shore Family Vacation airs Thursdays on MTV.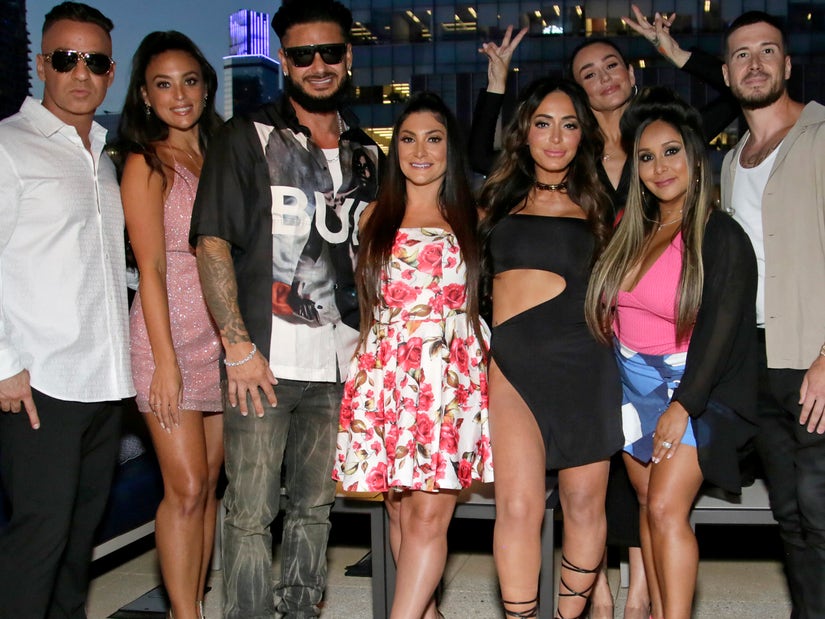 Source: Read Full Article